Sun Valley to begin operation of new lift this weekend!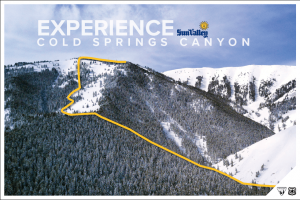 Skiers and snowboarders will be able to ride a new chairlift and get a glimpse of new terrain on Saturday, when Sun Valley Resort begins the first phase of opening a long-awaited expansion in the Cold Springs area of Bald Mountain.
Sun Valley will welcome skiers to explore an extension of the Lower Broadway run and ride the new Broadway high-speed quad chairlift. The Seattle Ridge area of Baldy is also scheduled to open on Saturday, served by the Seattle Ridge and Mayday chairlifts. The resort stated Tuesday that it will finalize which trails will be open in that area later this week.
The resort has installed the new Doppelmayr high-speed quad Broadway chairlift to serve the expansion area southeast of Seattle Ridge—called Sunrise—and to bring skiers out of the Seattle Ridge area. The lift has replaced the oldest operating chairlift on Bald Mountain, the Cold Springs two-person chair. The lift ascends 1,582 feet from a point at the bottom of an extension of Lower Broadway up to the Roundhouse restaurant, where skiers and riders can access the Christmas chairlift and runs on the River Run side of the ski mountain. The resort has installed 25 new snowmaking guns on the extended section of Lower Broadway, a popular, easy-rated cruising run.