This New Year's Eve, enjoy a simple celebration at home.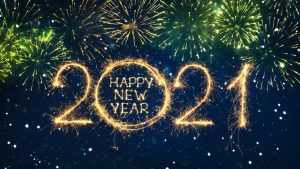 With big parties out of the question (really, please don't) it's time to celebrate the end of 2020 the way we've marked most major occasions this year: at home.
That doesn't mean you have to pack it in and put yourself to bed before midnight, unless a good night's sleep is what you've been looking forward to all year. That's a valid choice. Even if the night feels different than New Year's Eve celebrations of the past, you can still make the evening special — and pace yourself — without hitting the town.
Clean now, reward yourself later!
First things first: If you've been putting off any housecleaning over the holidays, give the house a good once-over to get it ready for 2021.
Keep yourself in check!
The impulse to have a drink, or two or three, is ingrained in Western New Year's culture. But it doesn't have to be a night of tequila shots and Champagne popping.
Make dinner an affair to remember!
With winter's first major snowstorms already sweeping across the country, outdoor dining could be dicey in your neck of the woods. So keep the meal inside and make dinner an intimate event.
Cue up a classic New Year's movie!
As the credits roll, make a toast to making it through 2020 in one piece and call it a night.