This 12-Acre Sun Valley Estate Starred in a Marilyn Monroe Film. Now It Can Be Yours for $16 Million.
The guest house on the property is better known as Grace's Diner on the silver screen.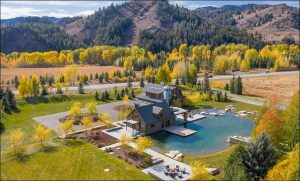 While many of the private homes that have appeared in feature films and TV shows are located in Los Angeles (obviously), that's not always the case, as shoots often head out on location to get some authentic flavor. For the classic Marilyn Monroe movie Bus Stop, for instance, the crew shot scenes in an old general store in Idaho. That shop has since been repurposed into a guest home and is now part of a larger, contemporary estate that's just hit the market for $16 million.
The residence is better known by Monroe fans as Grace's Diner. In the movie, it's where characters Beauregard Decker (played by Don Murray) and Virgil Blessing (played by Arthur O'Connell) make a pit stop on their way down to Phoenix. Since they're taking a bus to get there, in many ways the now guest home was the titular bus stop. The duo return to the diner on their way back to Montana after meeting Monroe, who plays Cherie, a singer.